BATOD wishes CIICA as successful a second year as their first year as been. CIICA is a valuable community for so many across the world. Congratulations.
Can't believe that CIICA is now one year old! So much has been achieved and no doubt there is much more to come. It is great to know there is an international community of people who really understand and value the very great benefit of today's cochlear implant technology for those who use it and their families. The numbers of CI users continues to grow but let's hope the pace of that growth increases rapidly so that more people who could benefit from this technology are actually able to do so. Thanks to CIICA for highlighting the value and need of CIs. Happy birthday!!!!! Tricia at CICS Group, UK
I am very happy to be a member of the CIICA family. I am confident that together we will improve access to magical technology such as cochlear implant around the world. Happy Birthday and many more to come! Ekaterine Tortladze, Aures Foundation, Georgia
Happy Birthday to Cochlear Implant International Community of Action! Its been a successful first year of inspiring people all around the world to think and interact GLOBALLY and act LOCALLY to advocate for better quality of life through improved hearing. Holly FB Teagle, University of Auckland and The Hearing House, Auckland New Zealand
CIICA represents a huge step forward in raising awareness of Cochlear Implants as a treatment option for people living with severe and profound deafness. The British Academy of Audiology, British Cochlear Implant Group and our network of 'CI Champions' support the aims and work of CIICA. We look forward to working together for many years to come to improve access to this potentially life changing technology. Happy anniversary CIICA! Ann-Marie Dickinson
I am pleased to be the acting chair of this exciting new global community 'CIICA' and proud to be celebrating our first anniversary. It is inspiring to join such a wonderful group of cochlear implant users, family advocacy groups and individuals who support the common vision to increase awareness and advocacy for CI and to what CIICA has realized in his first year. Congratulations Leo De Raeve, Acting Chair of CIICA
Happy Birthday CIICA! A great team! Prof Thuy, Vietnam
It's so inspiring to hear all the CI advocacy work going on around the globe – and to share the community of action! Sue Walters, CICADA, Australia
Thanks for your existence, CIICA! You make us to find global solutions to our common problems and think together! Happy Birthday, CIICA, and many, many more! Katalin Gal, Association for Hearing Impaired Children, Romania
We are so pleased to be part of this global effort to increase awareness and advocacy for CI. Working together has helped to inform the work we do here in the US ; so thanks to CIICA! Barbara Kelley, Hearing Loss Association of America
It has been wonderful to see how CIICA has grown in the last year and to see the impact its had in such a short space of time, Happy Birthday to CIICA! Anita Grover, Chief Executive, CI User, AVUK
I have so much gratitude to those people who invented CI which has enabled so many people around the world to hear. Paige Stringer, GFCHL, USA
I think CIICA has a very promising future and a great job ahead of it. It is a meeting point for everyone to take advantage of the experiences carried out in other countries and generate a great collective conscience. Joan Zamora, AICE, Spain
This year I send you a huge hug from Mexico, thank you for your love and getting excited with me! Teresa Escorza, Mexico
Happy birthday to CIICA the work done by the team is essential to improve access to hearing device for every patient but also to help national agencies to take decisions and recommendations. Prof Bernard Fraysse , IFOS président, France
On the eve of the International CI day I'd like to congratulate the CIICA on First Anniversary and thanks for fantastic activities aimed at improving the CI provision and maximizing the access and support for cochlear implantation. George Tavartkiladze, Moscow
Thanks to CIICA for bringing us all together as a CI worldwide community, sharing great ideas for advocacy, access and care: happy anniversary! Cathy Birman, Next Sense, Sydney
We have demonstrated the associative movement of the cochlear implant is expanding . The synergies of all the members have exceeded the expectations of this first year of life,. Happy cochlear implant day! Teresa Amat, President, EURO-CIU
CIICA's Next Events
CIICA CONVERSATION:
ADULTS with CI in CONVERSATION
It's All About Effort: Listening, Communicating, Learning
July 12th, 19:00 UK time
Read More
Latest News
We are all so saddened by the  news from Ukraine and are thinking of our members there and the surrounding regions. Have a look to see some of the  shared activity of support – and a video from Ukraine.
Read More
What's new on the website for our global CI Advocacy Community? See below and sign up if you haven't already and join the 80 organisations and 404 individuals from 52 countries already part of CIICA.
The world map below shows the reach of our website activity.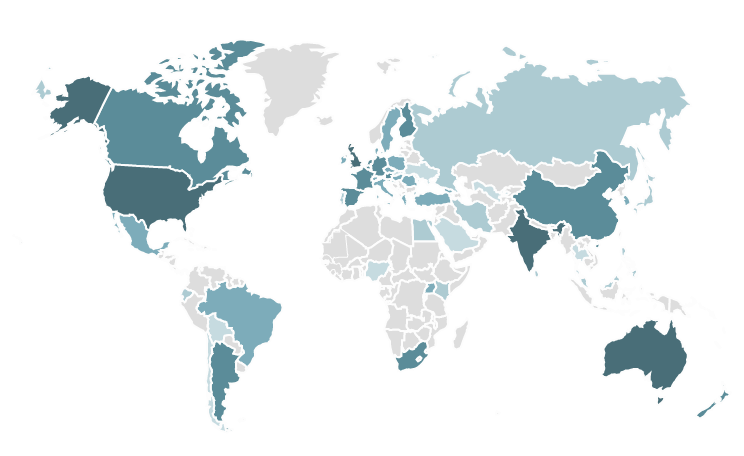 New resource for radiologists: On-line Video training from British Cochlear Implant Group now available
The Impact of the Pandemic in individuals and services: see member videos in Resources. What have we learnt? Read more
Adult Survey on Services after CI : thanks to all! We had 1200 responses from 40 countries, and the oldest respondent was 91! Watch this space for the initial report soon.
The captioned videos of presentations at the inspiring CIICA LIVE event, Adult CI Rehabilitation are now available at ciicanet.org/events. Do see what adult CI users have to say about the services they need.
We now have the Synopsis of the CI evidence in the World Report on Hearing available in German and in Italian. Thanks! See here
See all captioned presentations from CIICA LIVE events: The CI evidence from World Report on Hearing; CI Advocacy and how we do it; Ci Funding, challenges and priorities. ciicanet.org/events
See the video of Malala's inspiring story and how to share videos from children and young people with hearing loss. Malala Fund and hearing health not-for-profit Cochlear Foundation, have partnered to raise awareness of hearing loss and remove it as a barrier to education. See ciicanet.org/news
We now have over 40 languages available on our website – go to the top right of home page and choose your language!
British Cochlear Implant Group (BCIG) publishes the latest UK CI data, showing the trends during the pandemic and this challenging time. Their figures over the years are also available. See ciicanet.org/news.
Two more summaries of the CI evidence available in WHO World Report on Hearing: one on Children's CI evidence and one on Adult CI evidence. Download them here ciicanet.org/resources
New Resources available: CI Advocacy and The World Report on Hearing. A Briefing and a Synopsis for you to download and use and share. Synopsis available in Dutch, Turkish and Russian. More on the way. Go to ciicanet.org/resources
Research Roundups: we now have 6 research round ups of some of the latest published research papers relevant to our objectives and their key points for advocacy work. We hope that they are helpful and also inspire you to read the full papers! Go to: Research Roundups