EUROCIU: XIII SYMPOSIUM WITH OPCI, ONICI
Meeting again after COVID, EUROCIU, OPCI AND ONICI brought together over 200 people in Rotterdam – for an amazing and inspiring conference. A third of the speakers were CI users or parents of child with CI. Accessibility was key with captioning in English, Dutch, German and Spanish; sign language interpretation provided.
Teresa Amat, President of EUROCIU and on the Board of CIICA, welcomed everyone and highlighted the collaboration of EUROCIU and CIICA. Harald Seidler, Vice Chair of CIICA, Teresa and Leo De Raeve, Chair of CIICA and Director of ONICI, and OPCI organisers, Hennie Epping, Peter Helmout and Henk van Rees welcomed us all to this exciting event!
Brian Lamb, Policy Advisor of CIICA, challenged delegates to "stop talking about CI's as a costly intervention". Reflecting on the challenge that while globally there are now over one million people with an implant the number should be nearer 20 million if all who could benefit had access. He argued that we should focus on the lost opportunity for the health and social care systems to save money if they do not implant those who could benefit. One of the significant impediments to this goal remains the perceived cost of the intervention. Sharing some of the latest evidence on the cost-benefit of CI's he demonstrated that the earlier people had access to CI's the more society would save on other interventions and the greater the benefits would be for individuals' quality of life. He urged advocates when talking to Governments and health providers to stress the potential savings from investing in hearing care and CI's not the cost of the intervention.
Download his presentation as pdf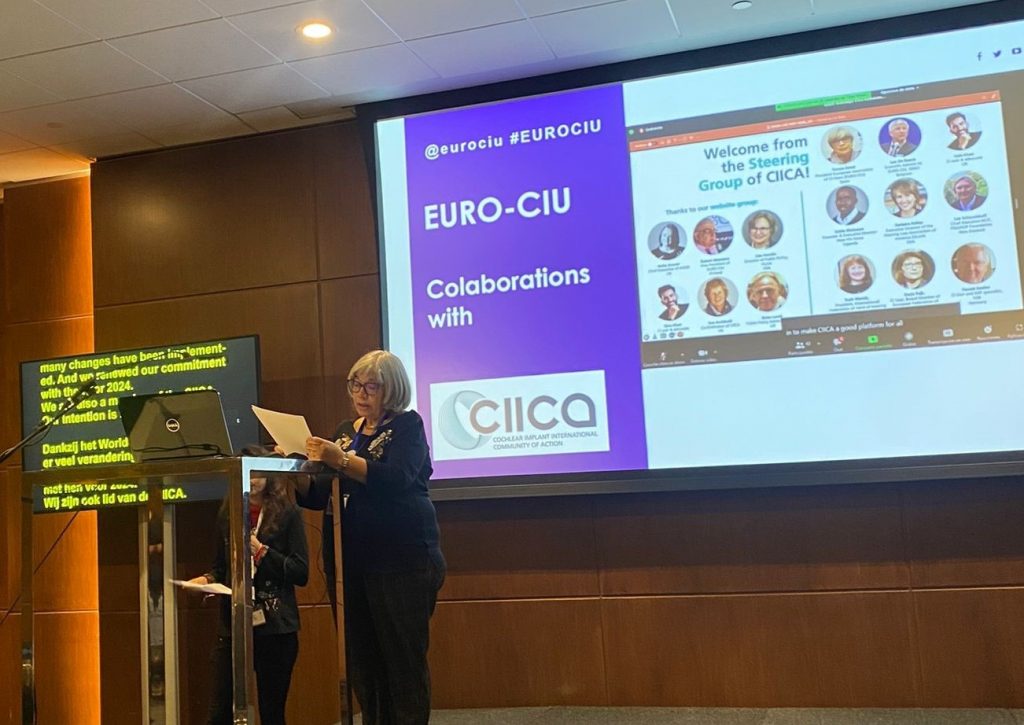 Brian Lamb of CIICA asked What does (not having) a Cochlear Implant Cost?, Sue Archbold launched the new CIICA Briefing Paper on Cochlear Implants for Deaf Children. (Downloadable in www.ciicanet.org/resources). Anita Grover, AVUK, and member of our Communication Group, inspiring about what is possible.