WORLD HEARING DAY 3 MARCH!
EAR AND HEARING CARE FOR ALL:  LET'S MAKE IT A REALITY 
Many resources to help you. https://www.who.int/campaigns/world-hearing-day/2023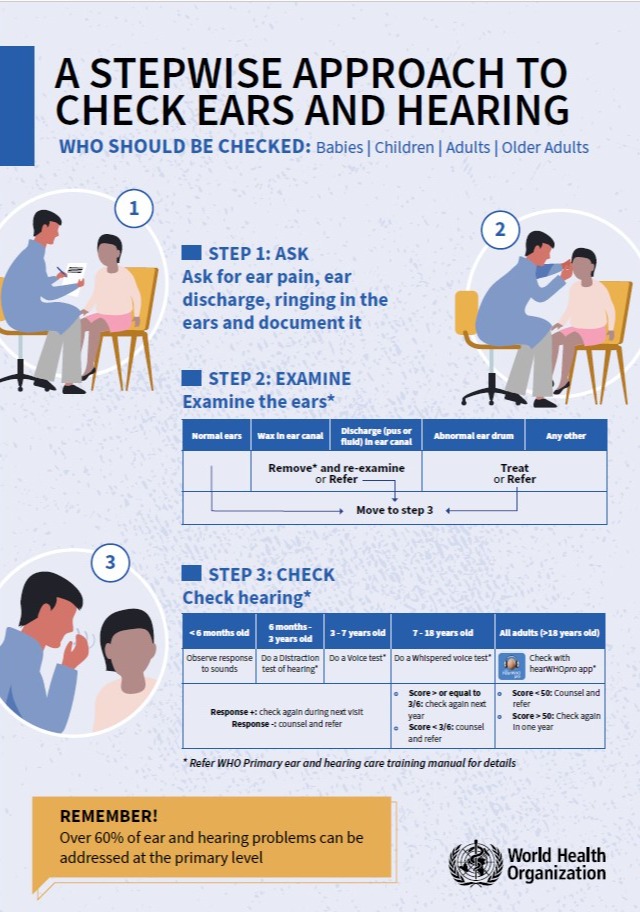 #worldhearingday #hearingcare
World Hearing Day 2023 highlights the importance of integrating ear and hearing care within primary care, as an essential component of universal health coverage
Key messages
Ear and hearing problems are among the most common problems encountered in the community.
Over 60% of these can be identified and addressed at the primary level of care.
Integration of ear and hearing care into primary care services is possible through training and capacity building at this level.
Such integration will benefit people and help countries move towards the goal of universal health coverage.
On this day, WHO launched a new training manual – Primary ear and hearing care training manual. The manual will be accompanied with trainer's handbook and other community resources and needs to be shared widely in primary care services. Down load at https://www.who.int/health-topics/hearing-loss#tab=tab_1
Launch of the World Hearing Forum website
Ahead of World Hearing Day on 3 March, the World Hearing Forum launched a website under the banner 'Ear and hearing care for all!'. Created by the Forum's 'Changemakers group', the site contains powerful stories of high-profile supporters and everyday "Changemakers" – people from around the world living with hearing loss. We hope their stories will help generate awareness while driving action on hearing loss. Collectively, our voices are stronger. We invite you to visit the website, read the stories and share with others.