AICE, ESPANA, Campaña Comercio Accesible!
Campaña Comercio Accesible (English below!)
Para un comercio de proximidad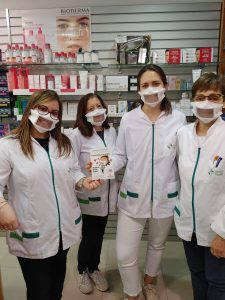 es importante la interacción con sus clientes. Contar con el recurso de las mascarillas comunicativas en los negocios para que los compradores que lo requieran puedan apoyarse en la lectura labiofacial, es básico, tanto para personas con pérdida auditiva, usuarios o no de implante coclear, como personas mayores que quieran seguir siendo independientes y participando en la vida activa en su comunidad.
Federación AICE emprendió la campaña de Comercio Accesible a la Comunicación con el siguiente lema:
Si necesitas leerme los labios…¡Pídeme que me la ponga!
 Las tiendas del barrio y los puestos del mercado reciben individualmente información sobre la pérdida de audición. A continuación se les da un cartel que les identifica como comercios accesibles a la comunicación para personas con pérdida auditiva. Y finalmente se les provee de mascarillas comunicativas para que las empleen en sus interacciones con la clientela que lo requiera.
Las respuestas de los comerciantes están siendo muy positivas. Así, los mercados centrales de ciudades como Valencia y Zaragoza apoyan al completo esta campaña, además de muchos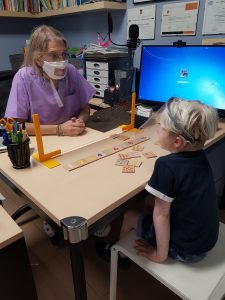 comercios repartidos por la geografía española, como en diversas ciudades de Cataluña.
– Accessible Commerce Campaign
 For a local business, interaction with their customers is important.  Having the resource of communicative masks in businesses so that buyers who require it can rely on lip reading, is essential.  In this way, people with hearing loss, users or not of cochlear implants, and older people can remain independent and participating in active life in their community.
Federación AICE launched the Accessible Commerce to Communication campaign with the following slogan:
If you need to read my lips…Ask me to put it on!
Neighbourhood stores and market stalls receive information about hearing loss individually.  Then, they are given a sign (image) that identifies them as businesses accessible to communication for people with hearing loss.  And finally, they are provided with communicative masks to use in their interactions with customers who require it.
The responses from traders are being very positive.  Thus, the central markets of cities such as Valencia and Zaragoza fully support this campaign, in addition to many shops spread throughout the Spanish geography, such as in various cities in Catalonia.
6 July 2021