CI DAY 2023 In UGANDA
Hear His Voice Uganda celebrates International CI DAY 
Eddie Mukaaya's group, with Cochlear and Biomedics Products celebrated International CI DAY  awith a family day out in an amusement park in Kampala. They had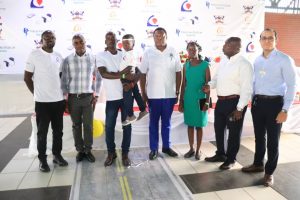 representation from the government and the commissioner for non communicable diseases
and from academia.
The Mistress of Ceremonies, organising everyone for whole day was Eddie's daughter, Elaine, which gave him great joy, seeing the CI journey evolve and be on its way in Uganda. Elaine's message to all:
My experience with CI day was a day to really appreciate the impact and the growth of technology of what has been done to solve the problem of hearing loss. And we should bring this topic up and let the hwhole of Uganda know that our country has hope over this problem. To our God and our country the awareness shall groe and hearing loss wont be a "witchcraft" or something but a milestone with a lifetime result due to the time and effort put in. 
Eddie's Comment:
The commemoration of the Cochlear Implant International Day 2023 in Uganda which is also the 2nd CIICA Birthday,  gave me a fresh appreciation of how hearing technology can completely change the lives of people living with hearing loss for the better.  12 years ago when we finally made the decision to implant our daughter, we did not know what the results would be but at least we were sure that her life would not be the same if she was given the opportunity to access sounds.  Seeing my daughter as the Mistress of Ceremony at such a great event at 16 years gave me great joy. Over the years, Elaine has grown to scale up her potential in the mainstream lifestyle thanks to her Cochlear Implant.  Cochlear Implant technology is not a one-time investment but a lifelong journey that transforms the life of CI users on a daily basis.  We are yet to find out what this young lady is not capable of with her implants. She has defied the limitations of deafness.    To say that Cochlear implants work is an understatement where there are good rehabilitation strategies and maximum family commitment and involvement.
27 March 2023