Funding for CI increased for upgrades in Manitoba, Canada
Good Morning all,
I thought I would share this …. This was at our Central Speech and Hearing clinic last year when our Health Minister made the announcement. I was speaking to thank her and the MB government for approving the 80% funding to upgrade our cochlear implants. This is for all CI users in MB regardless of income. I benefitted in February 2023 by receiving my Chorus processor from Advanced Bionics.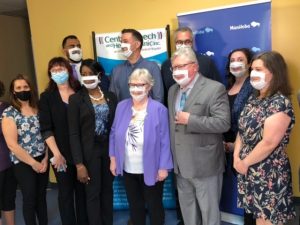 It allows me to watch tv without captioning now! and of course to hear my great grandson Chase!😊
This picture includes the Minister of Health on my right, the Minister responsible for Seniors on my left, the 3 audiologists& other clinic staff, the coordinator for the CI program at the Health Sciences Hospital and the MLA  for that area.
please share to all .. keep going with your advocacy work – we can work together.
Gladys Nielsen, CHAA, Manitoba
Gladys is a member of the Canadian Group coming together to improve provision of CI services across Canada.
5 July 2023