UsherKids UK – Houses of Parliaments
Qais Khan is a designer, model, and cochlear implant advocate. He became a Board member for CIICA.AISBL.
Qais had the honour to attend the Houses of Parliament with UsherKids UK to lobby members of Parliament about the importance of raising awareness about Usher Syndrome and to campaign for funding and earlier genetic testing.
He spoke about the power of connection, the impact it had on him and how important it is to be a role model for young generations.
Qais had the pleasure of meeting actor Mark Jordon, who appeared on Emmerdale. Mark Jordon and Laura Norton revealed that both of their young children have been diagnosed with Usher Syndrome. Qais hopes he gave him a glimpse of hope to ensure that their kids will have a bright future ahead. He also met Jo Milne who appeared on ITV and Loose Women, who was so inspiring for all the things she has done for advocacy.
Thanks to Jo and CUREUsher for the opportunity, and to all other speakers for sharing their powerful stories.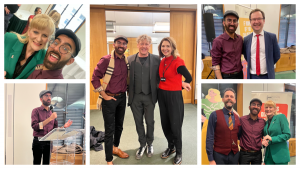 3 March 2023