IFHOH World Congress: Avi Blau takes over as President from Ruth Warick
At the long awaited IFHOH's WORLD WITHOUT BARRIERS World Congress in Budapest, there were many notable events!
Ruth Warick, of Canada, has been President of the International Federation of Hard of Hearing (IFHOH) for 12 years, and handed over the Presidency to Avi Blau, of Israel. Avi and Ruth can be seen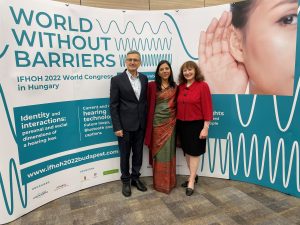 here with Dr Shelly Chadha, of WHO, who gave an inspiring key note speech to ensure that we are all aware of how much there is to do to provide Ear and Hearing Care for all.
430 million globally need hearing services

only 17% have access to interventions
Shelly urged us to:
Raise Demand and Improve Supply 
Dr Adam Kosa, MEP and President of the Hungarian Association of the Deaf and Hard of Hearing, spoke about the commitment in Hungary to the interests of the deaf and hard of hearing, and integration of people with hearing problems. Dr Kosa, Avi Blau and Ruth Warick here are launching the Budapest Declaration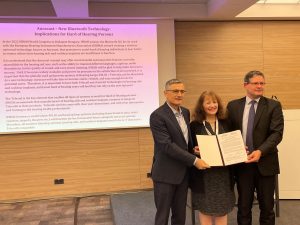 recognising Auracast, the new Blue Tooth Techology with its Implications for Hard of Hearing Persons.
Go to https://www.ifhoh.org/position-papers  for more information and for IFHOH's new policy on cochlear implantation.
6 October 2022