16th Global Conference on Ageing (IFA): Hearing in Later Life

As part of the International Federation on Ageing (IFA) 16th Global Conference on Ageing, a two-part hearing in later life symposium gathered policy, ageing, and hearing health specialists and civil society leaders to gain consensus on key action items to improve and advance integrated person-centered ear and hearing care amongst older adults.
The first symposium, focusing on the integration of hearing in health systems, brought together experts across disciplines and sectors to improve hearing health policy and practice, as well as draw key connections across intergovernmental agendas, to build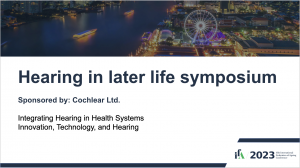 solidarity for the World Health Organization (WHO) World Report on Hearing, healthy-ageing environments, and person-centered integrative care.  The second symposium, focusing on innovation, technology, and hearing provided the impetus for dialogue and a call to action by raising awareness of and advocating for increased ear and hearing care technology use, particularly amongst older adults.
As an outcome of the symposium, the need for the ageing and hearing fields to join forces and work together, fostering interprofessional and interdisciplinary collaboration, was highlighted as a crucial step to integrate person-centered ear and hearing care into health systems.  Fundamental to this approach is the identification of the associations of hearing, vision, and brain health, in the context of healthy ageing.