EURO-CIU HOSTED A WORKSHOP AND GENERAL ASSEMBLY IN VALENCIA!
EURO-CIU Workshop and General Assembly 2023 Valencia: Building Accessible Communication Bridges.  Cochlear Implant Users Learning From One Another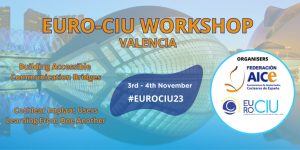 The EUROCIU General Assembly and Workshop for 2023 took place in the beautiful Spanish city of Valencia on 3rd & 4th November 2023.
Members from across Europe attended this great workshop with discussions with young people, parents, industry, researchers and user and family groups. It was great to see so many young people there and talking about their plans and the 2024 summer camp in the Czech Republic.
CIICA launched their adult report there – with much interest and discussion.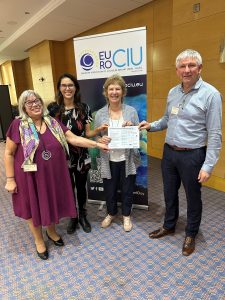 Sue Archbold launching the report with President Teresa Amat, with Laia Zamora and Chair of CIICA, Leo De Raeve.
The Board were thanked for all their work, and flowers and greetings given to Teresa Amat for all she had done in her period as President of EUROCIU. The elections for members of the new board then took place: with Robert Mandara as President, Beatrice Cusmai and Tobias Fischer as Vice Presidents, Pieter Bolle as Secretary and Ann Marie as Treasurer.
Robert Mandara and Tobias Fischer and the new Board with their advisors.