COCHLEAR IMPLANTS FOR DEAF CHILDREN
Cochlear implant is one of the most successful of all neural prostheses developed to date. (WRH, page 100)
This new Information resource from CIICA and EUROCIU provides up to date information about the impact of deafness for deaf children and their families, and goes on to provide information about cochlear implantation. Helpful for families and professionals thinking about cochlear implants for deaf children.
Children with cochlear implants have greater likelihood of acquiring oral language, integrating into regular schools and being able to experience sounds along with better speech skills. (WHO, 2021, page 98)
However, not all children who could benefit have the access to CI or the support to fully benefit from their improved hearing.
Download the Briefing here: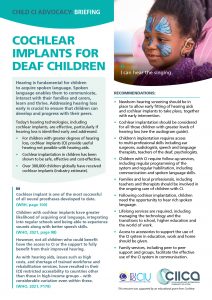 01027_CIICA CHILDRENS BRIEFING_4PP
The document provides helpful references for further reading to support its recommendations: 
Newborn hearing screening should be in place to allow early fitting of hearing aids and cochlear implants to take place, together with early intervention.
Cochlear implantation should be considered for all those children with greater levels of hearing loss (see the audiogram guide).
Children's implantation requires access to multi-professional skills including ear surgeons, audiologists, speech and language therapists, teachers of the deaf, psychologists.
Children with CI require follow-up services, including regular programming of the system and regular habilitation, including communication and spoken language
Families and local professionals, including teachers and therapists should be involved in the ongoing care of children with CI.
Following cochlear implantation, children need the opportunity to hear rich spoken language.
Lifelong services are required, including managing the technology and the transitions to school, higher education and the world of work.
Access to accessories to support the use of the CI system in education, work and home should be given.
Family services, including peer to peer support and groups, facilitate the effective use of the CI system in communication.