Spend2Save
The Spend2Save document provides a summary of the evidence that providing hearing technologies not only changes lives, but saves society money. It provides evidence on the cost to society of unaddressed hearing loss and recommends that funding hearing technologies should take into account the high cost of NOT addressing hearing loss.
Download Spend2Save in English here: [PDF]
The document is available in 17 languages from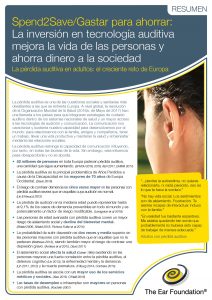 European Association of Cochlear Implant Users a.s.b.l. –
Luxembourg RCS F3180 (eurociu.eu)
Spending money on hearing technologies is a sound investment.