CIICA CONVERSATION: Adult Services after CI: Reimagining Rehabilitation
Wednesday 6 April, 19:00 UK time; 20:00 CET; 14:00 EST; 11:00 PST; Thursday 7 April, AEDT 04:00; NZ 08:00 
CI users know that surgery and device fitting are just the first steps in their hearing journey. But are the next steps sometimes unclear or inconsistent?  What is missing from the follow up process? Can follow-up services be technology-centered and person-centered? What would you like to see?
13 CI users from 12 countries joined this CIICA CONVERSATION about Adult service after CI, and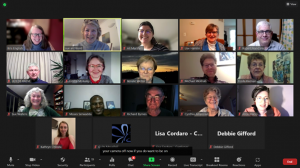 discussed challenges and recommendations about post-implant services. Our small group one hour conversation was facilitated by Kris English, Lise Hamlin and Ali Marinelli and was fascinating and inspiring!  Two of our group were both CI users and audiologists – great. The prize goes to Sue Walters, CICADA Australia for joining us at 4 am – we are sorry – there is no ideal time for global conversations!
You can share the summary of the discussion here.
and there will be another CONVERSATION in three months' time.