CIICA CONVERSATION: Adults with CI talking about the Living Guidelines
CIICA Conversation: The Living Guidelines Project: THIS WAS FULL 
Thursday 7 July 19:00 UK;
Thank you for taking this issue up, such a burning issue. It was wonderful interacting with each of you.
The full summary of the live conversation available in PDF
This CIICA Conversation gave an opportunity for Adult CI users and family members to discuss the Living Guidelines initiative and to put the user perspective to the issues being explored. 21 CI users and family members, with 3 professionals had a lively discussion on the project, sharing the issues important  to them. Leo De Raeve, our Acting Chair, led the Conversation.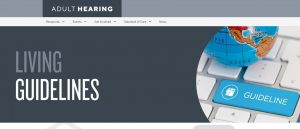 The Living Guidelines initiative is aimed at addressing the significant unmet need and improving outcomes for adults with a hearing loss. The guidelines will help ensure that those who need CIs have a consistent pathway for access to the right treatment.
CIICA is involved in this initiative and our Acting Chair, Leo De Raeve, is one of the Co-Chairs. This Conversation gave the opportunity to discuss the research questions which are being asked in the literature review and put the perspective of users and families forward about priorities.
More background information about the Living Guidelines Initiative is available at the 'Adult Hearing' website: https://adulthearing.com/living-guidelines/  and at https://ciicanet.org/2022/03/02/living-guidelines-project/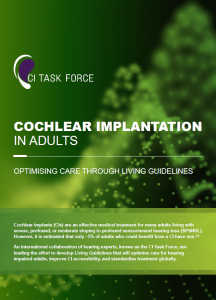 A new briefing about the Living Guidelines project is downloadable Living Guidelines Brochure