CIICA CONVERSATION: Experiences of Tinnitus and CI
Wednesday 14th September 2022
Although most forms of ear and hearing problems can be effectively managed with modern technology, tinnitus remains an invisible unaddressed burden to many.
In this CIICA conversation, led by Robert Mandara (Vice-President, EURO-CIU) and Julianna Franchetti, both CI users, we discussed their thoughts and experiences on all aspects of tinnitus in relation to CI.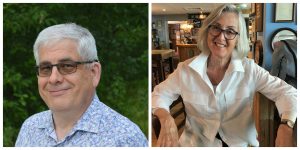 For example:
What are your experiences?
Do cochlear implants improve or worsen tinnitus? What concrete or anecdotal evidence is there?
What do CI users find helps or worsens their tinnitus?
Are clinics asking about and taking tinnitus seriously?
It was clear that the impact is huge and rarely recognised by others in daily life: "I basically couldn't cope because the tinnitus was like I was somewhere near the aircraft- roaring engines".
However it also impacts in the CI clinic.  No one had been asked about tinnitus in the clinic: "Never been asked- always had to be my own initiative but still not taken up afterwards." Yet all felt it impacted on clinic sessions:
"Do we hear the sounds in our headphones or the sounds in our heads?"
There were mixed experiences with CI and tinnitus and the topic of children and tinnitus was also explored. "I had tinnitus since I was 4 but I did not know it was tinnitus."
Read the summary of this fascinating conversation – and one which will be continued.
The summary of the conversation available CIICA Conversation- Tinnitus and CI Summary.