CIICA CONVERSATION for 18-30's: What changes are needed?
WEDNESDAY 24 MAY 2023 20.00 UK; 21:00 CET; 15:00 EST; 12:00 PST. THURSDAY 25 MAY: 06:00 AEDT; 08.00 NZ
The CIICA Conversation for 18-30's will focused on what changes are needed to improve the lives of cochlear implant advocates in society.
What changes do we want to see?
How can we make these changes happen?
Join us to share with others what specific steps can we take to create accessible and inclusive society. Hosted by Qais Khan (UK), Manu Malheiros (Brazil), and Holly Loach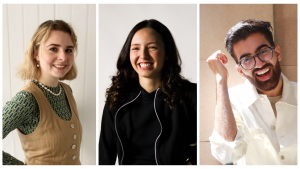 (UK).
The CIICA conversation provides a safe place to share your thoughts and experiences with others in a small group of young adults CI users from around the world.
Places are strictly limited, with no space for spectators! Our CIICA Conversations have small groups and last one hour.
Live captioning will be provided in English and other languages by request.
Register here and have your say!
Please share the invitation with someone you know who is between 18 to 30 and wears a cochlear implant!