CIICA CONVERSATION: WHY PARENTS' GROUPS?
Why are parent groups necessary?
Download the Summary – CIICA Conversations: Why Parent and Family Groups?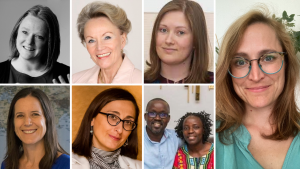 It's amazing that we can talk together like parents of children with cochlear implants from all over the globe!

We have more power than we believe, specially when we are together!
Parents have been key to driving forward CI services across the globe. Sometimes this is challenging and running family groups can be hard.
20 people from 13 countries attended our Conversation which provided an opportunity for parents who run family groups to share their ideas about why they are necessary, what they do and what their challenges and opportunities are. There were only 20 in the group to allow for conversation and it lasted an hour, with captioning in English and other languages as requested.  Many joined us to share their experiences  and successes, wherever they lived, and hear about others. Led by parents Ekaterine Tortladze, Leona Pechjarova,  Eddie and Edith Mukaaya with Paige Stringer, Monika Lehnhardt, Liubov Wolowik and Anita Grover.