CIICA CONVERSATION LIVING GUIDELINES 3
The summary of the conversation is available here
The Living Guidelines Project aims at producing evidence based guidelines for CI in adults, to help ensure that those who need CIs have a consistent pathway for access to the right treatment.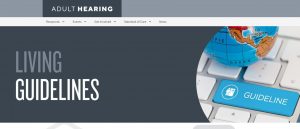 This third CIICA Conversation gave an opportunity for Adult CI users and family members to discuss the Living Guidelines initiative and to put the user perspective to the issues being explored. Leo De Raeve, our Acting Chair, led the Conversation, with Michal Luntz, ENT Professor in Israel and CI user, and Emma McAuley, Audiologist and CI user from Ireland.
CIICA is involved in this initiative and our Acting Chair, Leo De Raeve, is one of the Co-Chairs. This Conversation explored the issues of person-centred care, rehabilitation and outcomes important to CI users and their families.
The Conversation was lively, with the 14 CI users from 12 countries agreeing that rehabilitaion and mapping were vital:
"Most people don't know how good they could be with rehab. … That's a problem. We have a sports car in our head but many people are going with the speed of the bike."
It was felt important to measure the person and family centered outcomes, which has been called Measuring the Immeasurable.   For example, one attendee:
"Once I had been implanted I felt a weight lift off my shoulders. I had been in a dark, depressed place for very long. Suddenly I felt connected. I cannot measure that. I can feel it."
The group really values these Conversations: "it is a marvellous opportunity."
A new briefing about the Living Guidelines project is downloadable Living Guidelines Brochure in English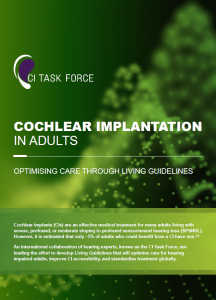 Other languages are available below
Living Guidelines Brochure in French
Living Guidelines Brochure in German
Living Guidelines Brochure in Italian
Living Guidelines Brochure in Spanish
Living Guidelines Brochure in Japanese