CIICA CONVERSATION: LIVING GUIDELINES 4
OUTCOME MEASURES IMPORTANT TO CI USERS AND THEIR FAMILIES
what do we mean by Quality of Life? for me it means the ablity to hear easily in different environments without effort….

it's the whole package of being able to communicate and being included, gaining independence.
The Living Guidelines Project aims at producing evidence based guidelines for CI in adults, to help ensure that those who need CIs have a consistent pathway for access to the right care.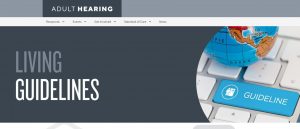 This FOURTH CIICA CONVERSATION gave an opportunity for Adult CI users and family members to discuss the Living Guidelines initiative and to put the user perspective to the issues being explored. This time the focus was on Outcome Measures Important to Users and their Families and assessment.
CIICA is involved in this initiative and our Chair, Leo De Raeve, is one of the Co-Chairs. The leaders of the project, HTA, observed and the comments of the Conversation have now influenced the recommendations.
It is important to measure the person and family centered outcomes, which has been called Measuring the Immeasurable.   For example, one attendee at the last one:
"Once I had been implanted I felt a weight lift off my shoulders. I had been in a dark, depressed place for very long. Suddenly I felt connected. I cannot measure that. I can feel it."
The group really values these Conversations: "it is a marvellous opportunity."
Download the summary of the Conversation here. 
A new briefing about the Living Guidelines project is downloadable Living Guidelines Brochure in English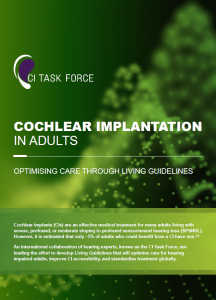 Other languages are available below
Living Guidelines Brochure in French
Living Guidelines Brochure in German
Living Guidelines Brochure in Italian
Living Guidelines Brochure in Spanish
Living Guidelines Brochure in Japanese