CIICA LIVE: The Impact of the Pandemic on CI users, Families and Services
This, our fifth CIICA LIVE event, on the eve of International CI day and our first birthday, was on the topic of the Global Impact of the Pandemic on CI users, families and services.   Our global network shared  their experiences of the huge impact of the pandemic – in ways which may be obvious and others not so obvious.  What have we learnt and what do we need to think about for the future? How do we ensure that access to CI and the necessary lifelong services are fully recognised in spite of the challenges?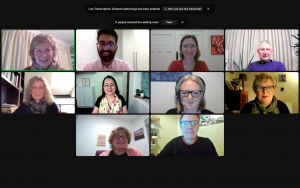 Thanks to Leo De Raeve (Belgium) our Acting Chair,  and Cathy  Birman (Sydney) for chairing so well and to PINDROP NEW Zealand for producing our compilation video. You can see this at https://youtu.be/zovpw3DgTU0
You can download pdfs of the presentations here and use the links to see the captioned presentations.
Please click the image to watch their video!
See our exciting programme here with information on the  speakers: Leo De Raeve, Cathy Birman, Adrian Davis, Anita Grover, Vahishtai Daboo, Lidia Best, Michal Luntz and Connie Mayer.   CIICA LIVE FEB 2022 PROGRAMME